Come celebrate Luscious Garage at our AWESOME new location!
Saturday, June 12th, 4-8pm
Link to map of 475 9th St
Meet the dedicated individuals who made this move possible! Mingle with our rad customers! Share a cold local beer with the all the friends and family of Luscious!
No RSVPs necessary; bring anyone you like; bring anything you'd like to share; LG to provide food, bevvies, and good times galore.
Highlights from the last few months:
475 pre Luscious
Interior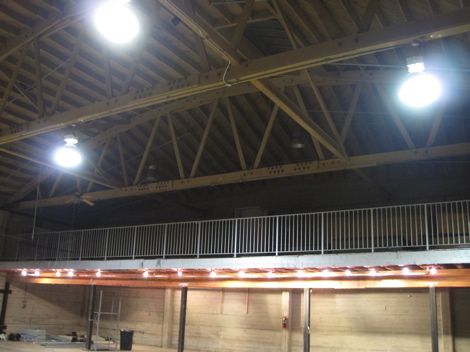 Scissor lift arrives (our resident battery electric vehicle); John takes the first trip and snaps a pic of Carolyn:
Improvements begin!
The floor is resurfaced and treated (non-toxic materials):
Bathroom wall moved and sink replaced for ADA:
Wall to waiting room replaced, glass donated by Justin Majors of Cardea Building, doors (not shown) courtesy of Craigslist:
Françoise and Justin of Cardea Building Co.:
KLM Utilities in the midst of electrical overhaul:
Alberto paints as we deliberate over which color blue to paint the "bulkhead":
Todd Girish "The Concrete Kid" frames the most beautiful concrete pillow for our in-ground lift:
New Bohemia Signs starts updating the landscape on 9th street:
Darren of New Bohemia makes it real:
Rainwater harvesting barrel arrives from Scott's Tanks, Willits, CA:
A big luscious cylinder of possibility:
John and Ioanna pack up Clementina, moving weekend:
Fuck SUVs; the luscious-mobile handles heavy miscellaneous:
Sunny and Hans from K&L Equipment move the things the Prius can't fit:
Booting up on 9th Street, our regulars find us:
Little jobs abound: John and Zach "The Bernal Burly Man" hang the leaf sign:
Repairs underway; John replaces MG2 on a gen 1 Prius:
Team LG in the gorgeous space. John, Gregory (our new addition), and Carolyn:
Any references to pricing of parts, labor, or estimates of any kind were accurate at time of publication. Please contact us for updated pricing.